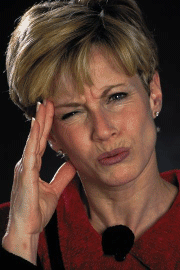 Do you have trouble making it all the way through a meal without your jaws getting tired? What about the idea of chewing a well-done steak or a piece of gum? If you find your jaws getting fatigued while eating and chewing, or you have given up certain foods,you may have early symptoms of TMD (temporomandibular disorder). TMD is the general term for any discomfort or pain related to your jaw or TMJ (temporomadibular joint).
You should be able to chew gum or have a well-done steak and chew without feeling muscle fatigue. Most of us expect to be able to lift a book and hold it without our arms aching, feeling fatigued or quivering. If our arm muscles gave out at the simple effort of lifting a book we would be concerned. If we had just joined a gym and done numerous bicep curls, or perhaps some extensive gardening we might not be surprised if our arm muscles fatigued quickly.
It should be the same with our jaw muscles, so unless they are being over-worked you should not experience symptoms of early fatigue or TMJ pain. A dentist well-versed in TMJ therapy can help you determine the health of the muscles and what might be leading to them being over worked. Often a simple appliance worn over the teeth will resolve this quickly and easily.