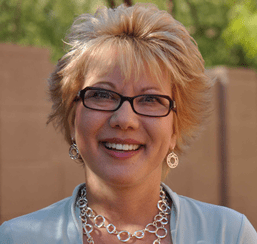 About Dr. Lee Ann Brady
 "What I enjoy most about being a dentist is the relationships I have with my patients. Coming to the office is about catching up with friends, finding out what is new in their lives and how I can support them. That's not to say I am not a geek. I love learning and getting better and better at understanding and solving the challenges of practicing dentistry. I spend as many hours every year in a classroom as a student and as a teacher becoming a better dentist as I do with patients."
– Lee Ann Brady, DMD
Dr. Lee Ann Brady is a 1988 graduate of the University of Florida College Of Dentistry. She devotes hundreds of hours every year to dental continuing education in the areas of cosmetic dentistry, implant dentistry, TMJ disorders, sleep apnea and restorative dentistry. When not in her Glendale office working with patients or attending a continuing education course as a student, she is teaching dental education courses to other dentists around the world. Dr. Brady was recognized in 2010 by Dentistry Today as one of the top 25 women dentists in the US.
Dr. Brady began teaching in dental education in 2005 when she joined the prestigious Pankey Institute as a member of the resident faculty and Clinical Director. In 2008 she joined Spear Education as their Executive VP of Clinical Education. She continues to teach at dental study clubs and professional dental meetings as well as host courses she has developed for dentists and their staff at Desert Sun Smiles, her Glendale dental practice. She has been widely published in dental journals writing both clinical and practice management articles. Dr. Brady has been recognized by Dental Products Report each of the last six years as a "Leader in Dental Continuing Education".
She prides herself in utilizing state-of-the-art dental technology and research to provide the best care to her patients, whether completing a simple filling or a full mouth makeover. She listens carefully to patients to understand their interests and concerns so that she can partner with them to achieve their goals, offering the best options dentistry has to offer.
She is a member of many dental organizations including the American Dental Association, Arizona Dental Association, American Academy of Cosmetic Dentistry, Academy of General Dentistry, American Academy of Dental Sleep Medicine, American Academy of Fixed Prosthodontics, American Equilibration Society and is a fellow in the American College of Dentists.
Dr. Brady and her husband made Arizona their home in 2008. Their daughters Sarah and Jenna attend Arizona State University, while Kyle attends high school. An avid reader, Dr. Brady is always in the middle of a novel.